Philadelphia Conference
NSRH is excited to announce our upcoming day-long conference. From nursing scope of practice, to facilitating conversations around sexual pleasure, our day-long conference will be filled with learning and connecting alongside nurses, nursing students and allied professionals committed to advancing bodily autonomy.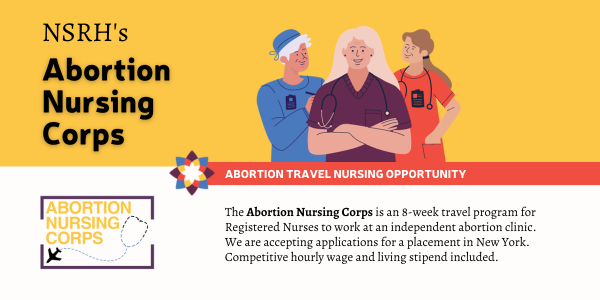 Abortion Nursing Corps: New York Clinic Partner
NSRH's Abortion Nursing Corps program has a new clinic partner based in New York! This is a great opportunity for nurses interested in re-locating to Queens for an 8-week travel assignment in abortion care.
Member Education Series: October Registration
Explore ways nurses can support patients' overall perinatal mental health and the processing of their birth trauma with Aiyana Davison, CNM and Divya Kumar, LICSW, Sc.M., PMH-C.
NSRH Members become part of a trusted community that unites people, knowledge, and networks from across the nursing field to improve the health and wellness of our communities.
NSRH Members have access to a variety of educational and professional development resources, including our Online Institute, interactive webinars, and events.
NSRH Members are part of a national nursing organization that equips nursing professionals and students with the education and tools they need to advance sexual and reproductive health and justice.
Training in Abortion Care Residency
Member-Only Education Series
NSRH's National Student Organizing Network
This is nursing.
NSRH provides a safe place for nurses and allies who are looking to disrupt systems of oppression that exist within the SRH sector. We create community and weave connections for the advancement of reproductive access, health, justice and rights.